Monday morning games. Who knew that three little words could make every heart at camp beat just a little faster?
Campers: nervous about the thought of actually having to play games and get out of their comfort zones with people they met less than 24 hours before.
Counselors: exhausted by the mere thought of jumping, yelling, and cheering for three hours about games they play every week.
And leadership: counting down the number of times left to explain the same game.
Yep, Monday morning games are tough. I can say that as a camper they are terrifying, as a counselor they are tiring, and as a PC they are just boring. But for some reason, God chooses to meet us out there on the angleball field and the nuke em' court. Rather than using the fanciest games or the craziest activities, God steps into these simple moments and uses them to point hearts towards him. And that, more than anything else, is what makes Eagle Lake so unforgettable.
I met Maddie for the first time on a Sunday afternoon. The first thing I thought was that she seemed excited, if not a little nervous, to be at camp. Little did I know that the Lord would soon use this sweet 12-year old to impact my own life.
On Tuesday afternoon, chaco-taco in hand, we sat down together on the beach to talk. Before long, we had launched into a full-fledged discussion of dragons. I have never once in my life thought about the different types of dragons, but there I was asking questions and listening intently to every detail. For over an hour. In fact, that afternoon we didn't talk for a single minute about Jesus or what she was learning at camp.
But from that conversation, Maddie knew that she was cared for and that I was there for her. She knew that when she was ready, she could trust me to come alongside her in the tough things she was facing. And over time, after camp ended and real-life began, that's what happened. Through letters written over the course of the next few months, I was able to encourage her with Scriptures, reminding her that no matter what happens, her Heavenly Father always has, and always will be, right beside her. I got to watch as Maddie began to experience the faithfulness of the Lord and the freedom of His promises.
God chose to use this tiny moment to turn both of our hearts towards Him, reminding me that He is completely sovereign and in control. It was clearly not my dragon expertise that impacted Maddie's life. But the Lord used what could appear to be a trivial conversation to mold our relationship and lead to deeper moments of discipleship for His own purpose.
Matthew 13:31-32 says "The Kingdom of Heaven is like a mustard seed, which a man took and planted in his field. Though it is the smallest of all seeds, yet when it grows, it is the largest of garden plants and becomes a tree, so that the birds come and perch in its branches."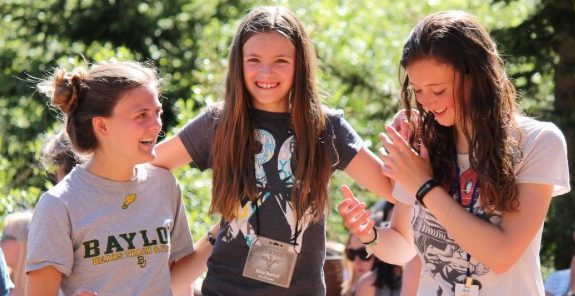 As I have traveled down the mountain and returned to school, I am reminded that God is able to work in these seemingly small ways no matter where I am. A conversation with the cashier at the grocery store, a note of encouragement to a roommate who is hurting, or a quick coffee date with a new friend could make a huge difference in someone's life, even if I don't see the fruit of it right away. God calls us to love others. He calls us to listen. And He is faithful to use little moments like these to change lives for His glory.