Interestingly, the most impactful story I think of when Eagle Lake comes to mind didn't happen at Eagle Lake Camp at all. Instead, it occurred at The Navigators' collegiate ministry's fall conference in Estes Park, CO.
Although this conference is typically only for college students, three of my former campers had asked for — and were given — permission from our regional director to join us. On the last night of the conference, I had the privilege to sit behind these three high school seniors. I had trained them in how to clean a toilet with excellence, led them in quiet times, and taught them how to share the gospel with little children. And now, as we sat praying over people the Lord had placed on our hearts and then began to worship, I watched my campers as they were pulled to their knees, their hearts broken for the sake of the gospel. Watching these teenagers commit their lives to Jesus not just for their own happiness but for the sake of others brought me to tears. 
Eagle Lake has made a lifelong impact on my walk with Jesus because it takes those who are considered "inadequate, inexperienced, or too young" and tells them that they are part of the army that the Lord is raising up for His Name's sake. Eagle Lake empowers young children, high school students, struggling college students and even college graduates to experience the joy of giving up everything for the sake of Jesus: for the sake of knowing Him and making Him known to friends, families and peers.
This past summer marked my twelfth summer at Eagle Lake as either a camper or a staff member. I have spent, in total, over a year of my life on an Eagle Lake property. To say the least, Eagle Lake has a special place in my heart that will never be removed. In those twelve summers, Jesus has taught me a lot of important, hard, and joyful lessons, but the lesson that I think ties them all together is that giving my life away for the sake of the Gospel is always worth it. Moreover, when I do, I experience the joy of being in my Savior's presence most fully.
As a high school student, I was part of the Crew program. It's a 5-week program where high school students come to Eagle Lake to clean toilets, serve food, and do the dishes. However, campers are also being poured into by college-aged counselors who give up their summers in the hopes that even just one high school student would begin or would deepen their walk with the Lord.
From my summers on Crew, one of the most impactful lessons I learned was that Christ is the cornerstone. I don't know why I remember this so well, but as we were placing the tables in rows in the dinning hall, my hospitality counselor placed the first one of the row, and he called us all together and said, "this one is the cornerstone, just as 'Jesus was the stone that the builders rejected, He has now become the cornerstone.'" I understood that passage for the first time as I saw a cornerstone be set, and everything else in the dining hall be affected by and oriented around it. Additionally, Crew gave me a hunger for God's word. It was the first time I was really encouraged (and told) to read my Bible on a daily basis, and that I was responsible for my walk with the Lord, not my parents. I began to read the Bible that summer and by my last summer on Crew, I had made my way through the entire book.  I was eager and hungry for the Word of God.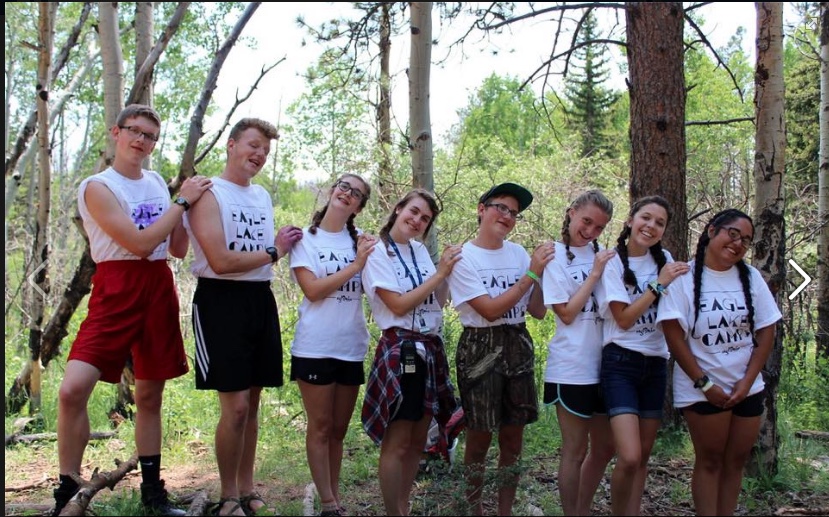 In 2015 I came on staff as a crew counselor. My summer was really hard. I was overwhelmed by the amount of brokenness that is in our world today as I lived life with campers (some only 14) who had first-hand experience with heartbreak, suicide, depression and rape. My heart was heavy and my eyes opened to the effects of the fall. My heart longed for something that would come and redeem and bind up these broken souls. My heart was restless for eternity and zealous for the gospel.
The following summer, I came back on staff as a Day Camp Crew counselor. The summer was marked by two phrases, "Three things are eternal: God, His word, and the souls of man," and "God is most glorified when we are most satisfied in Him." My sin of working for things that are not eternal, or not coming from a place of satisfaction in God and His Word, became evident in my life the first few weeks.
I struggled as two of my best friends were put in a position of leadership over me. In my head, I thought that I deserved that position just as much as they did, and fell into the trap of believing that I needed to prove to them and to my boss that I did. Constantly trying to prove I was enough was exhausting, because I'm not. And to put it bluntly, doing so is outside of God's plan and provision, and so there is no joy in trying. But the Lord humbled me and quietly asked the question, "Do you believe that I am sovereign? Do you believe that if I want to bring you back to Eagle Lake it will be more glorious than if you do all the work and they ask you, apart from me?"
Through one-on-ones with a staff member's wife, we talked through how much greater it would be if I was faithfully present where the Lord had me, in the moment He had me. It was His grace that placed me on Day Camp that summer. (And now I'm convinced it's the coolest job at Eagle Lake!) I was put on a crew that allowed me to do what I love: develop kids into strong leaders, lovers of God's word, and servants for the Gospel. I worked with eight high school students who were eager to learn. They worked with our Day Camp campers on our Glen Eyrie property. The primary goal of the program is to learn how to lead a Bible study, but these campers walked away with so much more.
One of my favorite stories from that summer happened with one of my quieter campers. I had been encouraging her to try and just be present, to play, and to interact in hopes of getting a chance to share the gospel with a camper. In the middle of one of our one-on-ones, she looked me in the eye, and asked, "Will you follow me around and tell me every time that I could have shared the gospel, but didn't?" Even in questioning her ability to share the gospel, she still knew and believed that the gospel was worth it, and that her joy was to tell it to all those around her. 
The passion I saw for the gospel cultivated in these sixteen and seventeen year olds challenged me more than I could have imagined as I stepped back onto my own campus this semester. Each day at Day Camp we reminded our campers that they would not be promised a second chance to share the gospel, but only given the opportunities right before them, so go forth boldly! It's easy to forget that in the midst of tests, events, and friendships.
However, through deep relationships with staff, campers, and other counselors in the midst of beautiful mountains, Eagle Lake has instilled in me that Christ is worth it, on the mountain and off. He is worth giving up your summer, your plans, and even your dreams, "for we count it all as loss because of the surpassing worth of knowing Christ Jesus our Lord" (Philippians 3:8). I could tell countless stories of how God has met me through relationships and time spent at Eagle Lake, but they would all tell one story: God is meeting his people in the stillness of Eagle Lake, to equip them to go off the mountain and share His story for His glory.