Did you know…
children spend an average of 20 hours/week online?
children only spend an average of 4 hours/week playing outside?
HOW DO YOU WANT
YOUR
CHILDREN TO REMEMBER THEIR CHILDHOODS?
Eagle Lake (Rez)ident Camp is everything you could want for your child in an sleepaway summer camp.
We know that playing outside is key to fostering creativity, problem solving skills, social development, and a love for God's creation. So we provide an exciting array of activities in the Colorado mountains sure to engage your children's interest in the people and world around them from the first hour of camp until the last.
At Eagle Lake, campers get time to romp through the woods and run through the trees while playing big and small team games like Capture the Flag. They get time to enjoy beachfront activities like the Blob and waterslide, and a bevy of canoes, kayaks, and paddleboards to splash around our lake on; and skills workshops like crafts, riflery, and archery. And they get time to simply be: time to play games like Gaga ball; time to build friendships with their cabin mates; and time around a campfire to laugh and share stories while building s'mores and life-long friendships.
We work hard to balance structured and free time. This allows us to train and equip campers to work in teams through group competitions and in how to do Bible study, quiet times, prayer, and scripture memory. It also develops their sense of independence as they decide how they want to spend their time: in skills workshops, beachfront activities, or simply soaking up the Colorado sun while building sandcastles, playing beach volleyball, or enjoying treats with friends at out store.
We've discovered that playing alongside campers allows our exceptional staff to meet your child right where he or she is at. This, in turn, lays the foundation for counselors to build authentic, life-changing relationships as they make time to give your child intentional, individual attention through one-on-one discipleship.
We want to give your child time to play outside and build memories they'll treasure for a life time! Do you?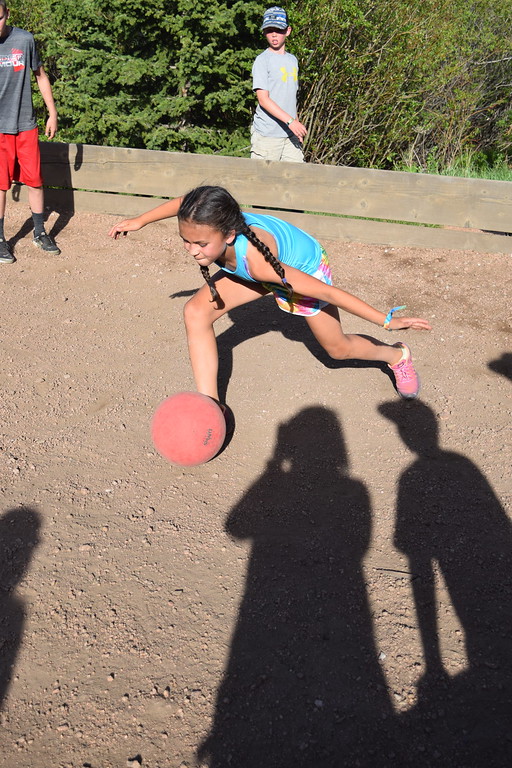 Love the idea of camp but want something a bit more adventurous than the 'traditional' camp experience?
God's creation is just waiting to be explored, and our Excursions programs are the perfect way to take the adventure level up a notch.
Excursions is unique from all of our other programs. It harkens back to our earliest days as a premier Wilderness camp. These roots are evident in the exciting and challenging experiences we create for campers to encounter God in His creation.
We provide an array of programs to meet campers at a variety of skill levels. Depending on the program, Excursions campers have the opportunity to brave the rapids of the Arkansas River on a whitewater rafting trip; explore the beauties of Pike and San Isabel National Forests via hiking and backpacking trips; push their limits as they rock climb and rappel off new heights; enjoy kayaking on our lake; develop mad mountain biking skills; learn to trust God in new ways as they traverse our premier 60 foot high ropes course; and build communication and social skills while working through our low ropes course and team building initiatives with their cabins.
Excursions is the perfect blend of fun, challenge, and adventure in a camp setting guaranteed to inspire awe and appreciation for God and His incredible creation in the Colorado Rockies.
Did you know:
     

9/10 teens report being online daily?

     

1/3 teens feel that technology negatively impacts their relationships with their parents?
Our SHOCK teen camp is the perfect reboot for teens heading into another year of high school!
A week of SHOCK provides your teen with an amazing camp experience that gives them a chance to unplug from social media and the internet and connect with the world and people around them, and enjoy the beautiful Rocky Mountains.
As they step away from daily distractions, they have more time to enjoy some good, old-fashioned fun: soaking up the summer sun relaxing or playing volleyball on the beach; splashing around the lake in canoes, kayaks, or paddleboards; flying through the air via our Blob or our quarter-mile zipline; jumping in on food fights or building s'mores around a campfire; or grabbing coffee or ice cream at our store with friends.
Moreover, they'll be challenged and equipped in their walks with Jesus through Bible study with like-minded peers, as well as through individual attention and discipleship from our exceptional counselors. Through all of this, they'll have a safe place to refocus on what's truly important and begin to develop life-long habits and helpful strategies to live out of their core values and return home emotionally and spiritually refreshed.
We're ready to provide your child with a safe, fun week of camp designed to help him build life-long memories, create new friendships, develop healthy habits, and encourage and equip him for the coming school year! Are you?!
Did you know…
1 in 4

 high school students report experiencing a great deal of stress?

1 in 3

 high school students note that stress considerably affects their relationships with their families?
High school students! How are YOU
handling the constant juggling game of school, friendships, family relationships, work, and figuring out how to authentically live out your faith in the midst of all of these?
If you feel like you could use a retreat from the craziness of life and would like a chance to learn healthy habits for walking with Jesus while serving alongside like-minded peers, then we would LOVE to invite you to apply for Crew!
CREW provides you with amazing opportunities to:
BE DISICIPLED. Your counselor will meet with you one-on-one at least once a week to listen to you, encourage you, and equip you to grow spiritually, emotionally, and relationally.

GROW SPIRITUALLY. Along with being discipled, you'll be in daily quiet times and weekly Bible studies alongside peers who are excited to grow alongside you.

SERVE OTHERS. A major component of CREW is serving behind the scenes to enable our Overnight camps to run smoothly. You'll have a chance to serve our overnight camps as you do tasks like cooking, cleaning, building trails, or setting up camp activities.

EXPERIENCE TRUE COMMUNITY. There are few places like Crew that foster such intentional community among high school students. You'll be surrounded by people who – although they have different backgrounds and giftings – have come together for a common purpose. You'll build deep and often life-long friendships with the people you live and serve with.

HAVE FUN!!! We are a camp, after all! And we want to make this one of the

best

summers of your life. So we've built in tons of time to play in the lake, lounge on the beach, enjoy treats at our store, and chill in the Lower I (Crew's basecamp). Even better, we've developed weekly game nights and weekend activities you'll love. From camp-wide Capture the Flag and water balloon wars to Human Clue and white water rafting, you'll have a blast building life long memories!
We're ready to equip you for a life-long walk with Jesus while packing your days with crazy fun and great friends. Are you in?
*Crew is by application only. Returner applications open October 1; new applicants January 1. Please note that spots fill very quickly, so apply ASAP once open!